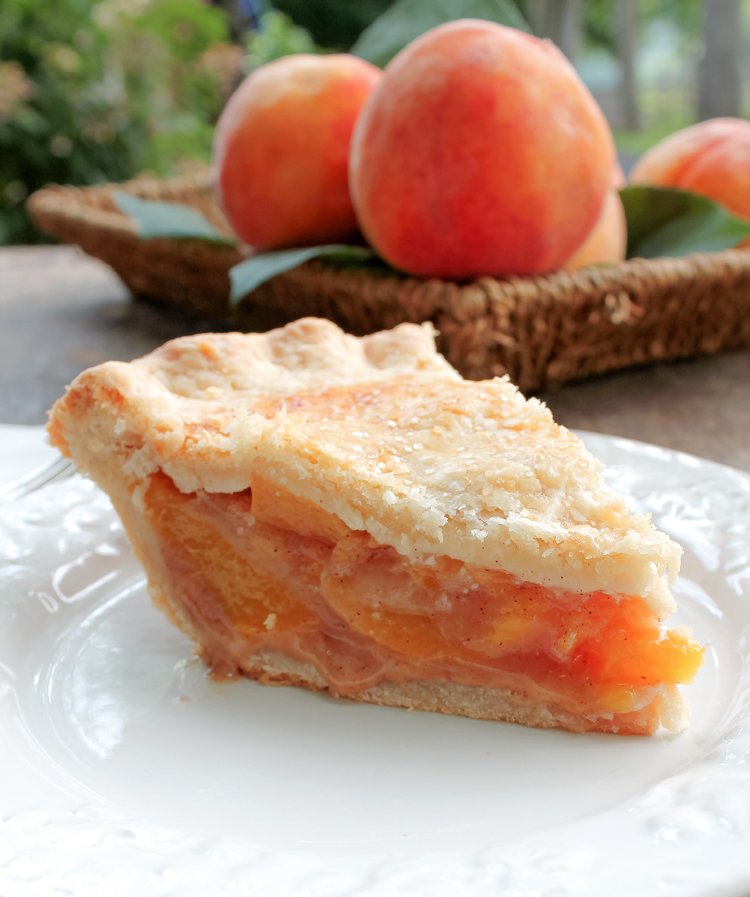 The Perfect Peach Pie
Our new neighbors Peggy and Michael have been a great addition to our little neighborhood on Gilberts Creek.   We are a small gathering of people who love living close to the Kentucky River, they fit in like they've been here forever.
Last week when Paul and I were going to Pennsylvania for my son's wedding, Michael was also making a trip to Pa. to
Peter's Orchards
, his family's orchard in Gardner's Pa.
He loaded his vehicle with fresh peaches,apples,plums, nectarines and apple butter for his return trip and shared them with his close neighbors. Check out Peter's Orchard's
Face Book
page for gorgeous photos of the fruit they sell!  Thank you Peggy and Michael, your generosity is much appreciated!
All those gorgeous fresh peaches were the inspiration I needed to make my first Peach Pie.  It was absolute PERFECTION! The flavor of the fresh peaches is up front and delicious, the pie isn't overly sweet which allows the peach flavor and natural sweetness to come shining through.
I made a homemade pie crust, you could use a pre-made crust to save time.  I sprinkled the top crust with raw sugar, you could use regular sugar mixed with a little cinnamon, peaches love cinnamon.
My husband Paul said this pie was so good it deserved a name…"I'm going to call it , The Best Pie Ever Made."  Trust me you're going to love it! It is in deed The Perfect Peach Pie. Enjoy!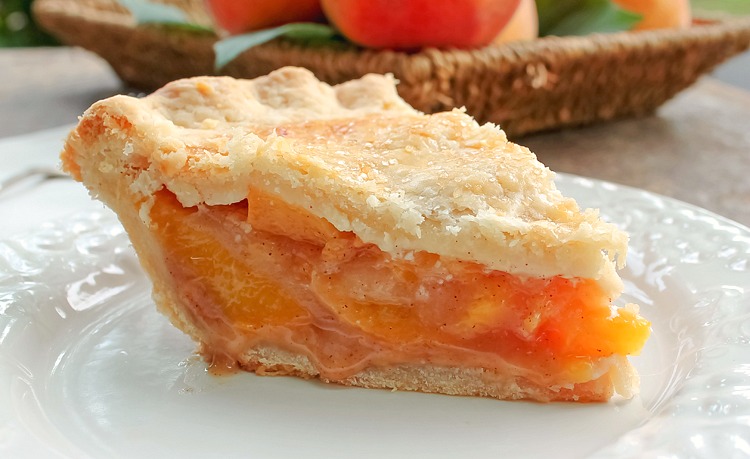 The Perfect Peach Pie
Ingredients
Pie crust recipe yielding two crusts for a 9 inch pie or

1

package pastry for a 9 inch double crust pie

15 ounce

5

cups

sliced peaches

1

egg

beaten

1

Tablespoon

lemon juice

1/4

cup

all purpose flour

1/4

cup

cornstarch

3/4

cup

white sugar

1/4

cup

brown sugar

1/2

teaspoon

cinnamon

1/4

teaspoon

salt

2

Tablespoons

cold butter
Instructions
1. Preheat oven to 450 degrees

2. In a large bowl combine the sliced peaches and lemon juice, gently toss together. Place the sliced peaches in a colander to drain. Don't skip this step, this eliminates some of the juice so your pie won't be soupy after it's cut. When I drained my peaches I collected almost a 1/4 cup of juice. Drain peaches about 10 - 15 minutes. Place drained peaches in a large bowl.

3. Place one homemade or pre-made pie crust in the bottom of a 9 inch pie pan. Brush the pie crust (bottom and sides) with a little of the beaten egg. This keeps the crust from getting soggy. Keep the rest of the beaten egg to brush on the top crust.

4. In a medium size bowl combine the flour,cornstarch,sugars,cinnamon and salt. Stir to combine. Pour the flour mixture over the drained peaches and gently fold them together.

5. Pour peaches into the bottom pie crust and dot with butter. Place the top crust over the peaches and flute edges. Brush with the rest of the beaten egg and cut 4 slits in the top crust to vent steam. You can sprinkle sugar on top of the crust for decoration if you like. Place pie on a baking sheet, I always do this so there's no chance of spills in the oven.

6. Bake the pie at 450 degrees for 10 minutes, reduce heat to 350 degrees. Bake an additional 30-35 minutes until crust is brown and juices bubble up through the slits. If your pie edges brown to quickly, cover the edges with strips of aluminum foil and continue baking.