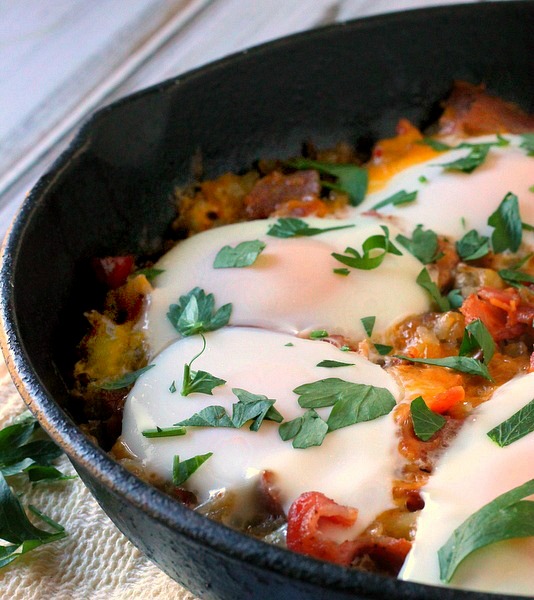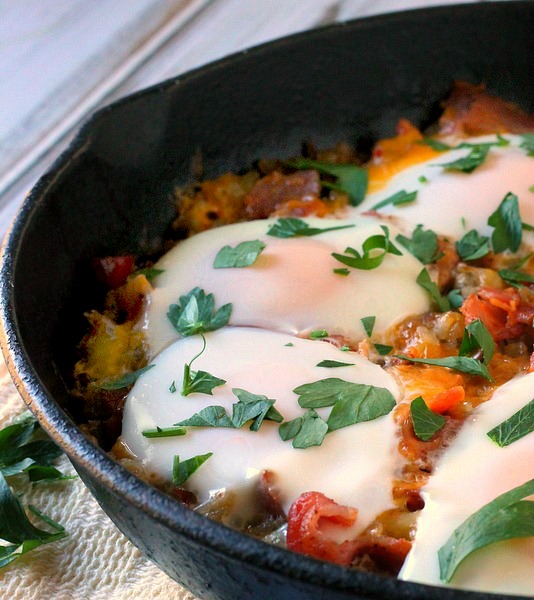 Weekends are pretty causal around here. We take whatever the days bring and just roll with it. Having breakfast for dinner suits both of us any day of the week but the weekends? Oh yes, the weekends make it extra special. No schedules and no worries along with an easy delicious skillet breakfast, life's good . Skillet Hash Brown Breakfast has lots of flavor and texture. Made in one pan, minimal clean up. This is my kind of lazy day dinner or breakfast. Enjoy!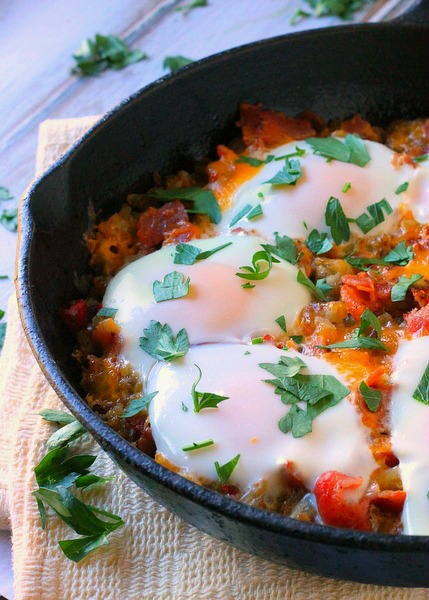 Skillet Hash Brown Breakfast
Ingredients:
6 slices bacon
4 1/2 cups frozen shredded hash browns, partially thawed
1 small onion,chopped
1/2 red bell pepper, chopped
1/2 teaspoon garlic powder
6 eggs
1/2 cup shredded cheddar cheese
salt and pepper to taste
chopped parsley for garnish
Directions:
Cook bacon in a large non stick skillet until done. Crumble and set aside.
Remove all the bacon drippings from the skillet except 1/4 cup. Add the hash browns,bacon,onion,bell pepper salt and pepper and garlic powder. Cook and stir over medium heat until hash browns are golden brown, about 15 minutes. Sprinkle with grated cheese.
Using the back of a large spoon , make 6 indentations in the hash browns. Break 1 egg in each indentation. Cover the skillet with a lid, cook about 3-5 minutes until eggs are set. Sprinkle with parsley. Serve.
Adapted from McCormicks