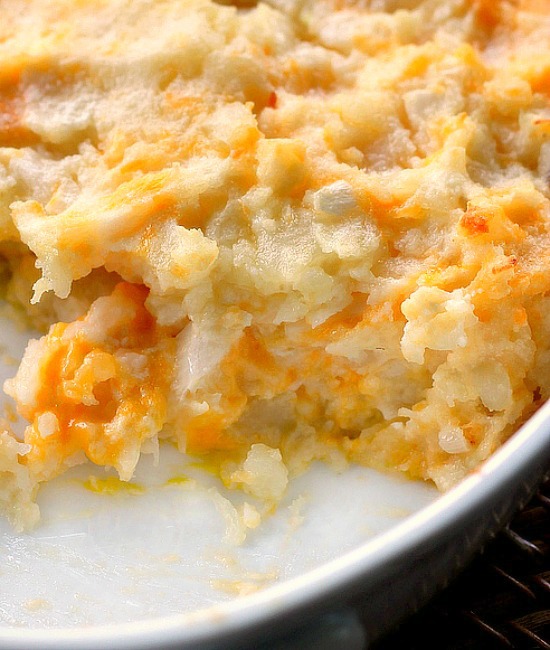 Potato Casserole
All it took was one spoonful of this Potato Casserole to make my eyes light up!  Seriously, I'm standing in the kitchen looking at the casserole thinking, I'll just taste it before I serve it.   As soon as the flavors hit my mouth the first thing I thought of was…this taste like a pierogi filling!
And it wasn't just me either!  Paul whose from Texas and has only ever had pierogies that I've made, thought the same thing.
Paul…This  tastes just like a …
Bunny…Pierogie?
Paul…Yeah!
He went on to eat what I served him for dinner, then after dinner yelled up the steps and told me he was heating more up in the microwave to eat.  He ate half the casserole himself.
Potato Casserole is made with real potatoes that are cooked, cooled and grated.  Now that might seem like a lot to do but it really isn't.
You can boil the potatoes earlier in the day, grate them and have them ready to make later.  After that, it's just a matter of grating the cheddar cheese and adding the diced onion, sour cream and salt.
The texture of the potatoes is more mashed potatoes with texture than hashbrowns.  I know your thinking, why grate the potatoes? Paul and I agreed that we liked the texture.  The mixture of a soft "kind of" mashed potato with texture is what made me think of a pierogie filling.
Spoon it into the casserole dish, top it with melted butter and bake.  Believe me, once you taste it you'll love it.  I think what I like the most about it is, there's no cream of anything soup in it, everything is all natural.  Potato Casserole is a keeper, Enjoy!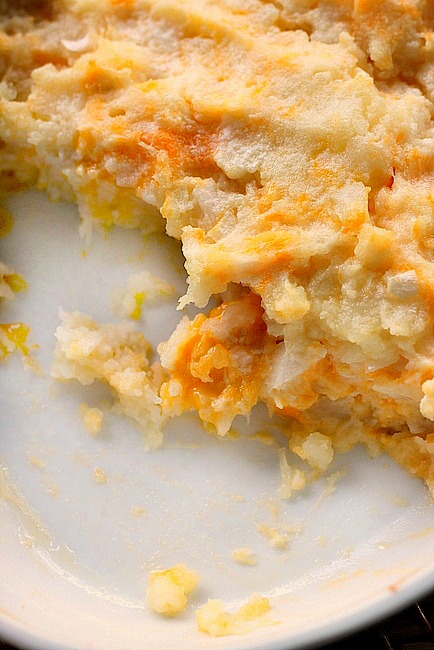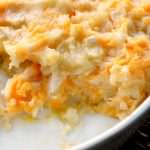 Potato Casserole
Ingredients
6

potatoes

peeled, cooked and grated

1 1/2

Teaspoons

salt

1

cup

sour cream

1

small onion

diced

11/2

cups

shredded cheddar cheese

1/4

cup

melted butter
Instructions
Preheat the oven to 425 degrees. Butter a 2 quart casserole dish.

In a large bowl combine the grated potatoes, salt, sour cream, onions and cheddar cheese. Stir to combine. Spoon the mixture into the buttered casserole dish. Pour the melted butter evenly over the top of the potatoes. Bake at 425 degrees for about 35 -40 or until slightly browned on top. Remove from the oven and serve immediately.
 If you enjoyed this recipe, you may like these as well.