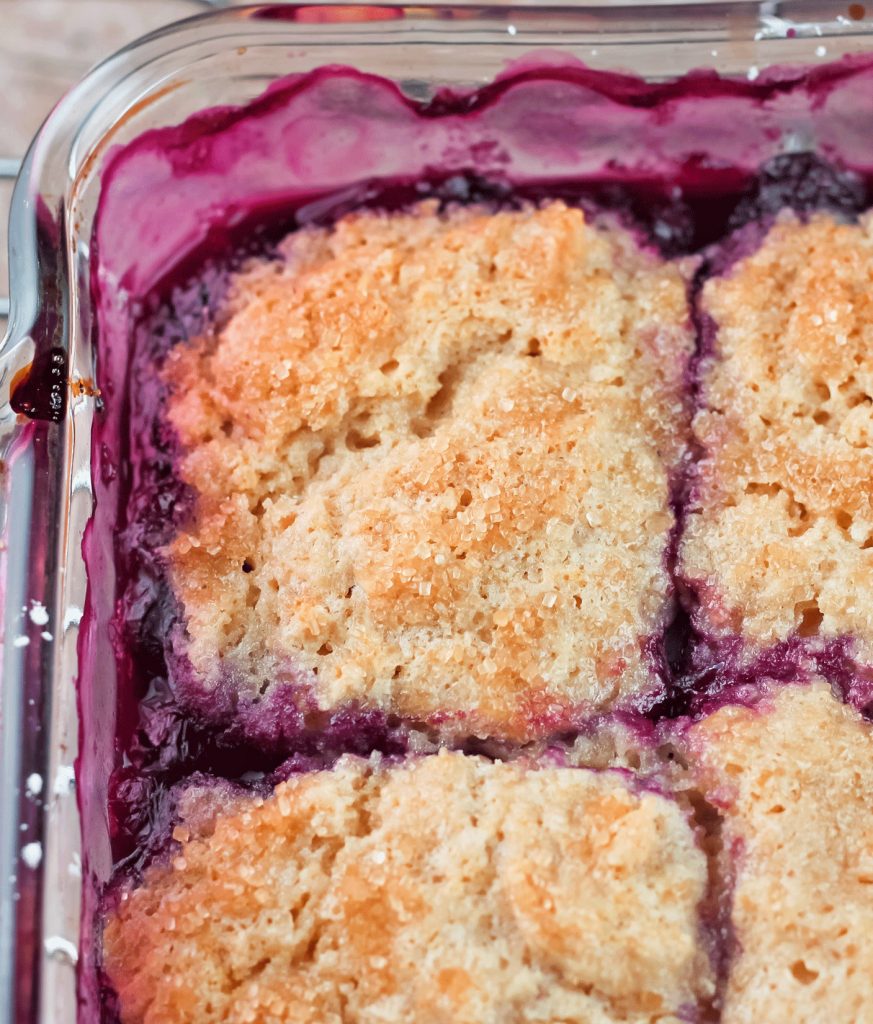 Blueberry Cobbler
In the midst of snow flying this morning and a zero degree temperature this evening, I needed a reminder that Spring is but a couple of months away.  The glorious flavors of blueberry and lemon can indeed be enjoyed in the winter as a warm blueberry cobbler with creamy melting ice cream.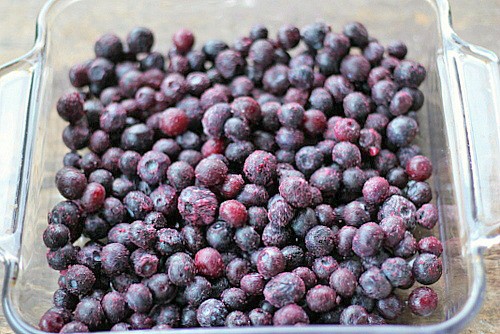 We start making the cobbler by putting 3 1/2 cups frozen blueberries in an 8 or 9 inch ungreased baking pan.
The cornstarch gets sprinkled on top of the blueberries with a dose of lemon juice to follow.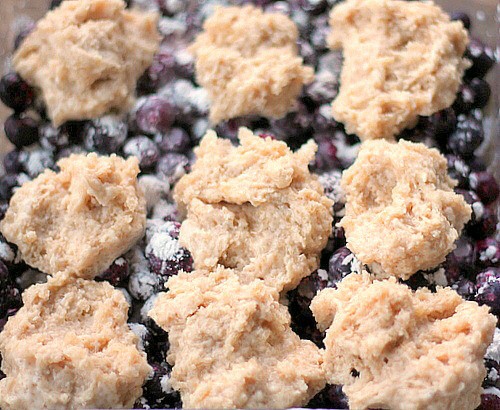 Mixing the dough up to put on top of the blueberries was a cinch .  Boiling water is poured over the dough and blueberries with more sugar to top this glorious medley off.
Bake at 350 degrees for 45 – 50 minutes.  Waiting for the Blueberry Cobbler to cool  enough to taste?  Pure torture. Oh but it was worth it! The soft yet slightly crunchy baked dough is absolutely wonderful!  The turbinado sugar (raw sugar) sweetens the dough perfectly.  The lemony ,blueberry juices that form on the bottom of the pan are more sauce like instead of heavily thickened.  It paired so well with the vanilla ice cream that added a creaminess that can only be described as joyful.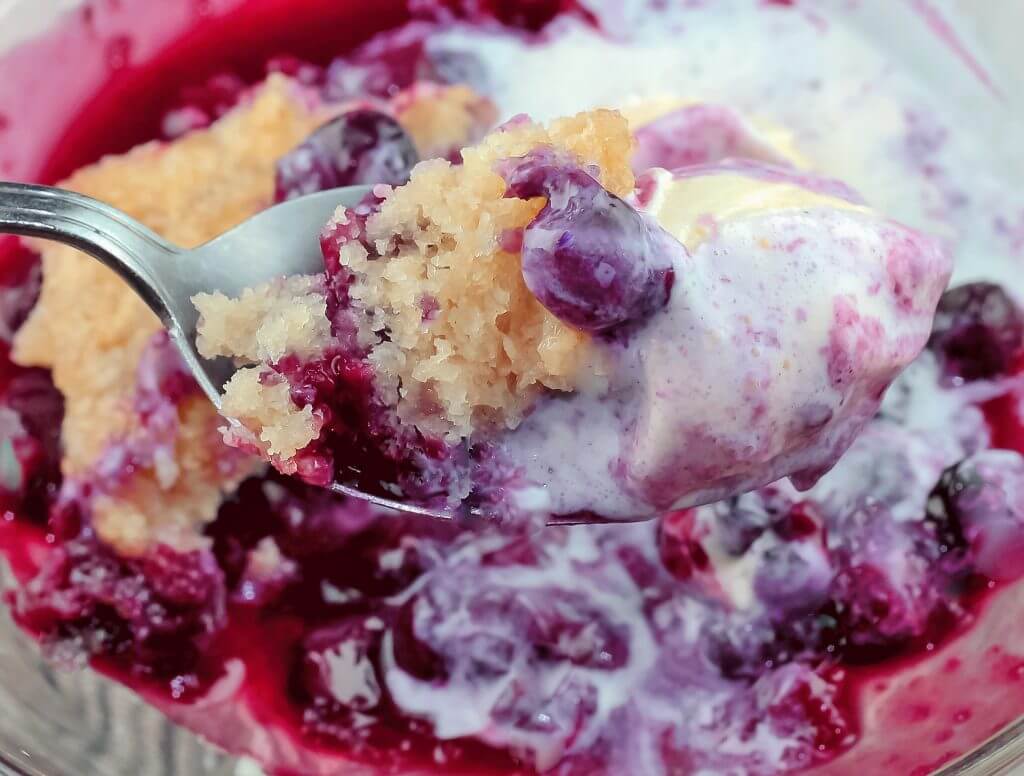 When Paul had his first bowl he looked at me and said…this is one that I want you to keep making.  Then he went down and ate a second bowl.  You bet sweetie, one pan for you and one for me because I have a feeling I'm not getting a whole lot more than the taste I got!  Enjoy, if you can get any of it after the family tastes it!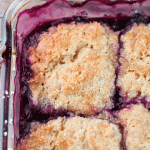 Blueberry Cobbler
Ingredients
3 1/2

cups

frozen blueberries

1

tablespoon

cornstarch

2

tablespoons

lemon juice

1

cup

all purpose flour

3/4

cup

turbinado sugar or regular sugar

divided

1

teaspoon

baking powder

1/4

Teaspoon

salt

1/2

cup

milk

3

tablespoons

butter

melted

3/4

cup

boiling water
Instructions
Spread 3 1/2 cups frozen blueberries in an ungreased 8 or 9 inch baking pan.

Sprinkle the blueberries with cornstarch, then drizzle the lemon juice over top. Set aside.

In a medium bowl, combine the flour,1/2 cup of turbinado or regular sugar,baking powder and salt. Stir to combine. Add the milk and butter. Stir till just combined. Dough will be lumpy, not smooth.

Drop mounds of dough on top of the blueberries, I was able to get 9 nice mounds.

Pour the boiling water over dough and blueberries. Sprinkle the remaining 1/4 cup sugar over the dough and blueberries. Bake at 350 degrees until biscuits are golden brown and blueberries are bubbly, 45 - 50 minutes. It took 50 minutes in my oven. Serve warm or room temperature with vanilla ice cream.
If you enjoyed this recipe, you may like these as well.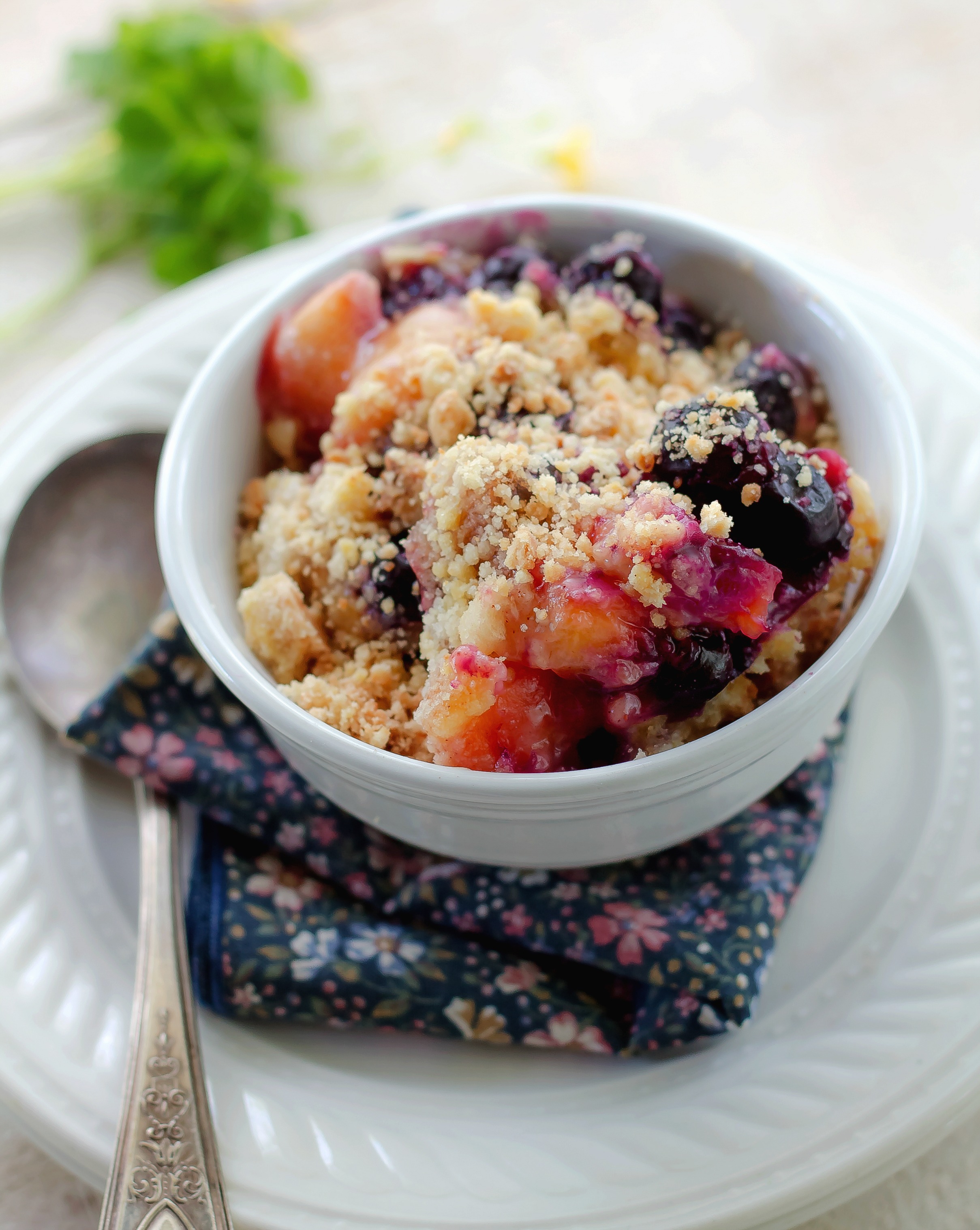 Old Fashioned Peach Blueberry Dessert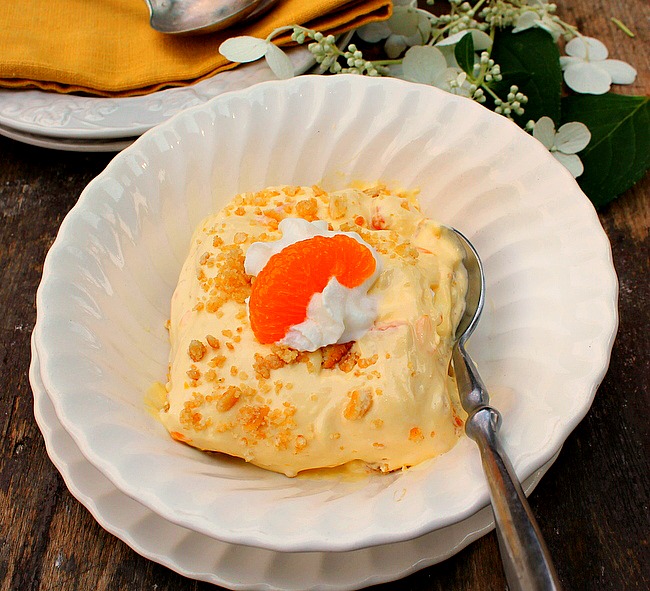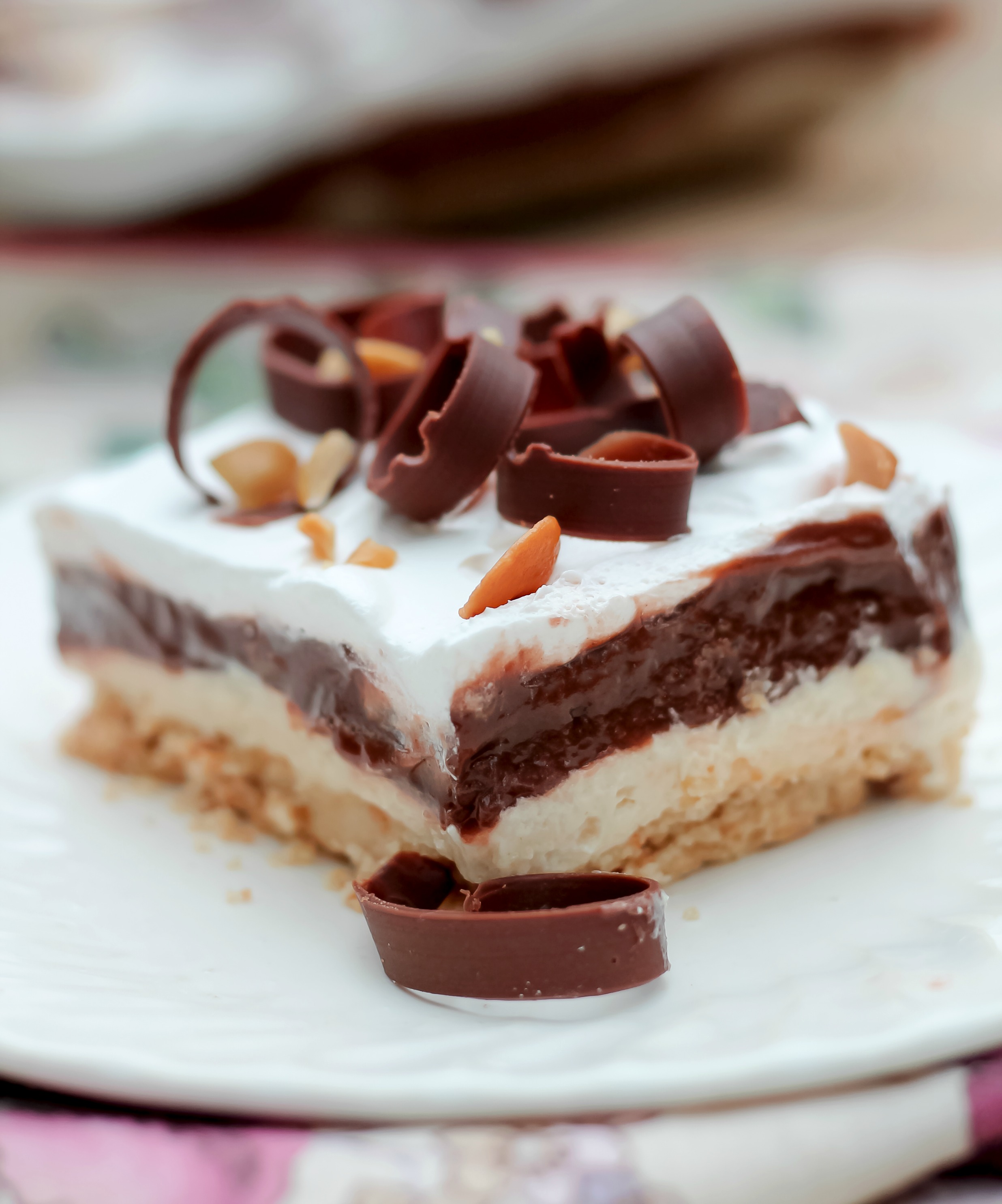 Chocolate Peanut Butter Dessert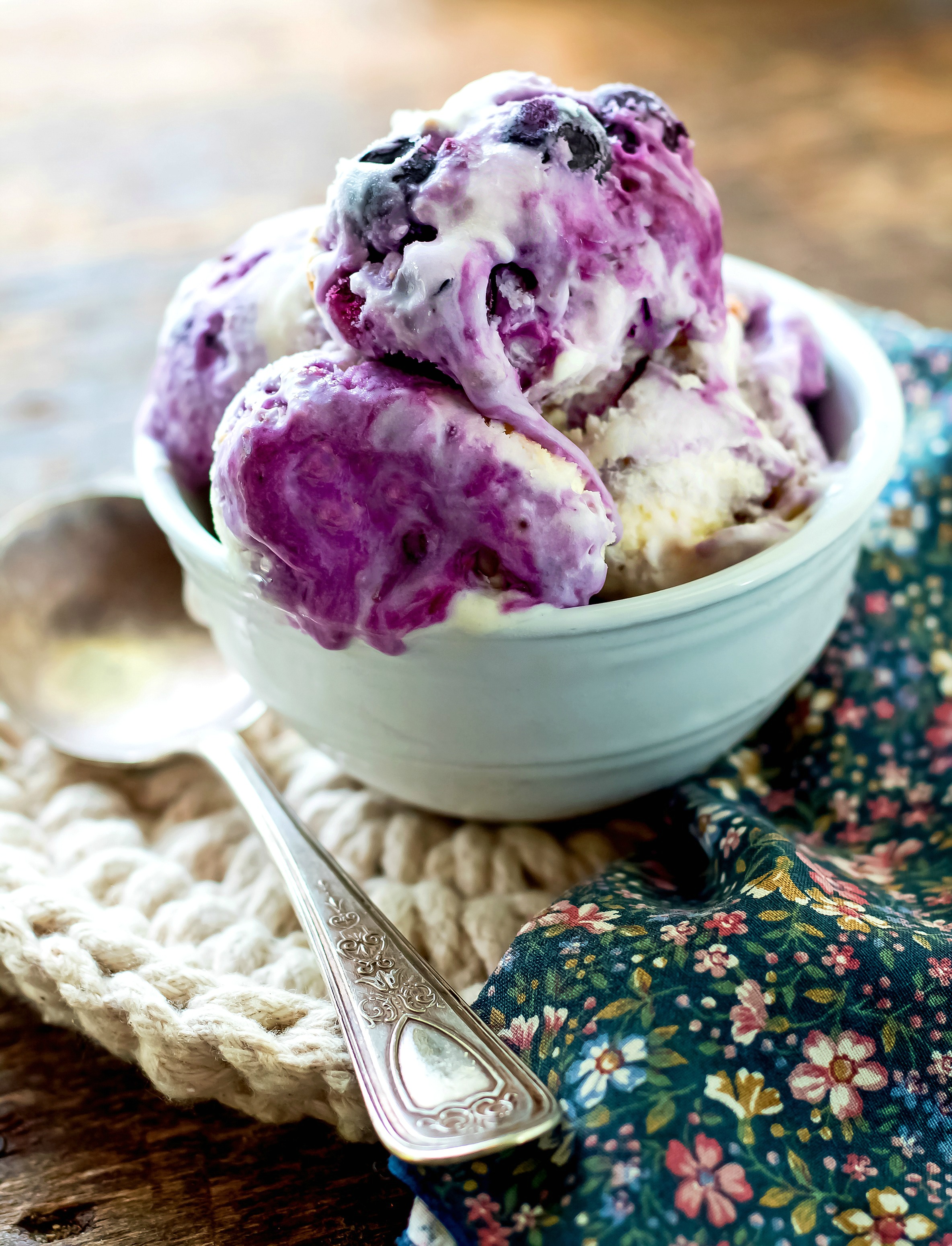 Blueberry Cream Cheese Ice Cream