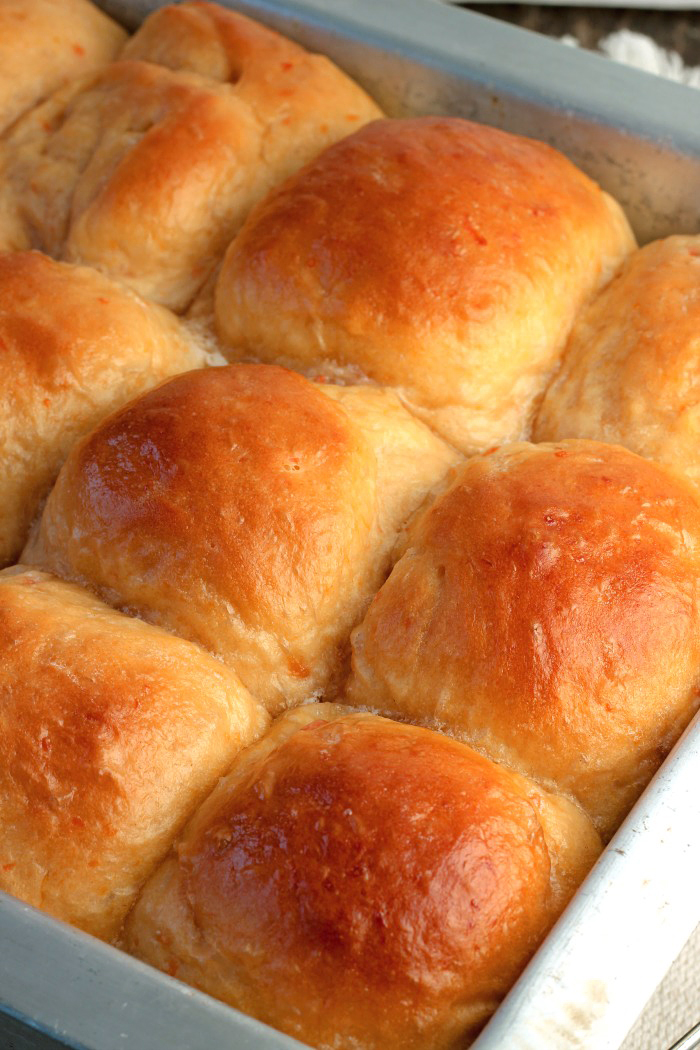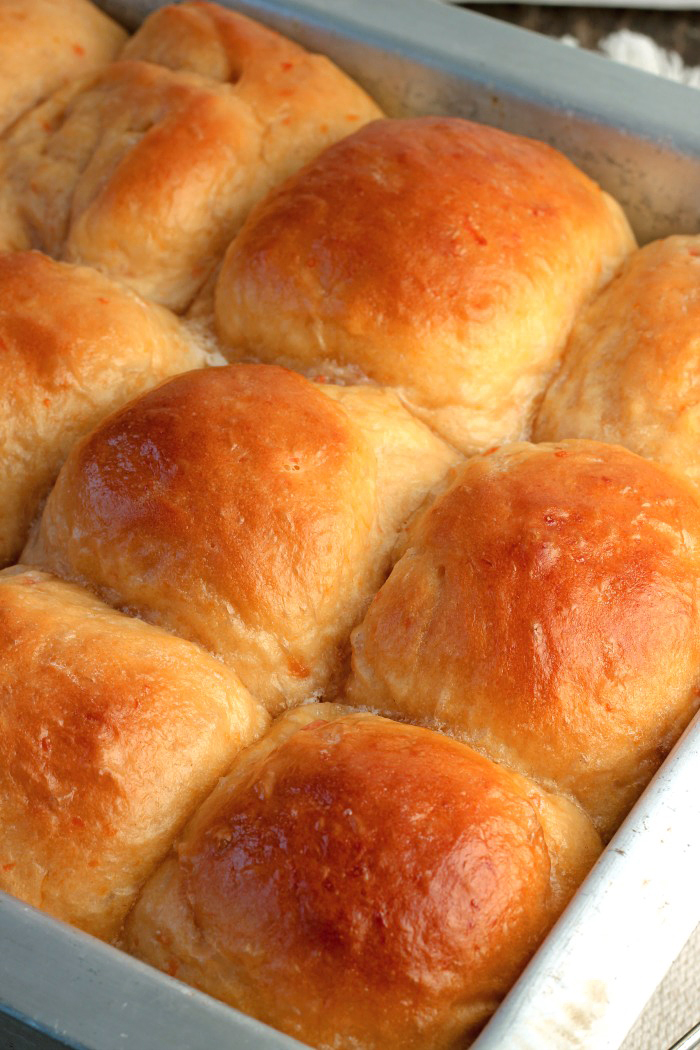 Sweet Potato Dinner Rolls
Sweet Potato Dinner Rolls are so very fluffy,soft and delicious! The recipe was extremely easy to make. I had sweet potatoes from our garden to make these, you can also use canned sweet potatoes, but I would strongly urge you to use fresh sweet potatoes. One small potato peeled, cut up, boiled and mashed will give you the half cup sweet potato you'll need for the recipe. Adding mashed sweet potatoes to the dough isn't going to make the rolls taste like sweet potatoes. Adding potatoes to any bread or roll recipe adds flavor. Potatoes are made up of mostly starch which turns into sugar. Yeast loves sugar! The yeast eats up the sugar and changes the flavor of the dough. Adding potatoes to dough also adds moister to the bread, which makes it last longer. Potato breads are always very moist, tender and flavorful. These rolls are no exception.
When I make yeast breads and rolls I like the dough to be slightly tacky to the touch when I'm done kneading it. I know when the dough is tacky, that my bread will be tender. After the initial first mixing of the dough ingredients most recipes will have you add more flour to the dough to make a soft elastic dough. I like adding flour to the dough as I knead it, that way I can feel the dough and it's texture and know when to stop adding flour. The amount of flour you add to the dough to make it soft and elastic will , believe it or not, depend on what the weather conditions are like where you live. If it's Summer and the weather is hot and humid you'll probably end up adding more flour than if it was Fall and Winter.
This recipe is so easy to make and would be a great beginner project. I hope you get bitten by the "yeast bug" and love making breads and rolls from scratch as much as I do. ENJOY!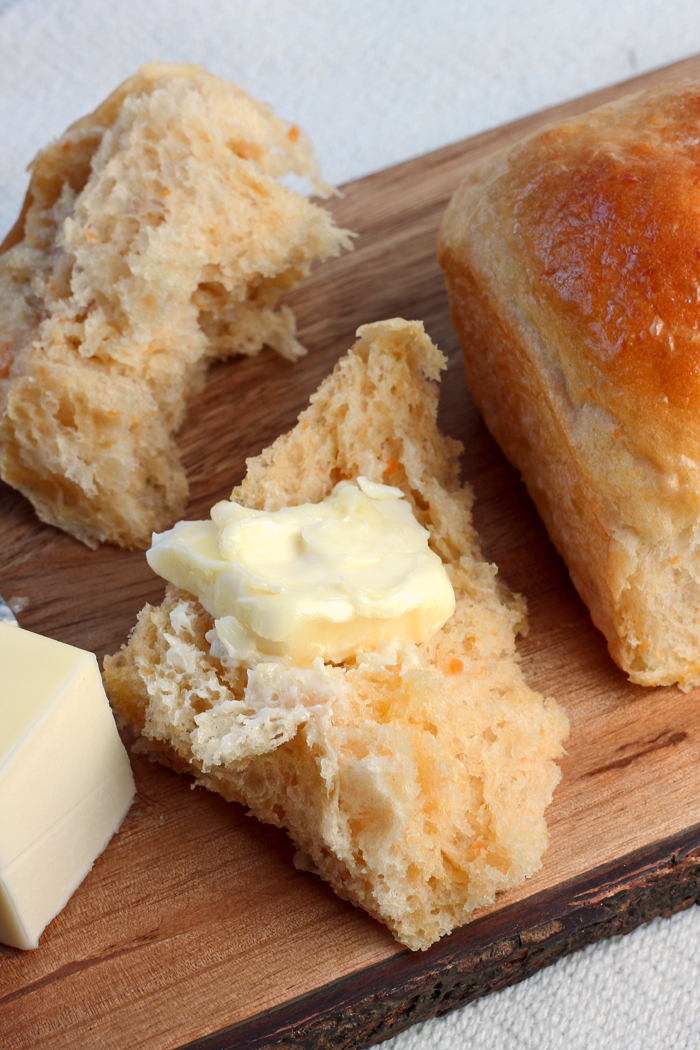 Sweet Potato Dinner Rolls
Ingredients
One .25 oz pkg active dry yeast

3

Tablespoons

brown sugar

1

Tablespoon

white sugar

1/2

cup

mashed sweet potatoes

can used canned sweet potatoes as well

1/2

cup

warm water

110 degrees

3

Tablespoons

butter

softened

1

Teaspoon

salt

2

eggs

slightly beaten

3 1/2

cups

bread flour or all purpose flour
Instructions
Dissolve yeast, warm water and 1 Tablespoon white sugar in a large bowl. Let stand 5 minutes or until yeast is bubbly and has risen up.

Add the brown sugar,sweet potato, butter, salt and eggs to the bowl. Beat with electric mixer on low till ingredients are well mixed.

With the mixer still on low speed, add 3 cups of flour to the bowl, mix until flour is just incorporated . Turn the dough out onto a clean lightly floured surface. Knead the dough and add enough flour ( you have a 1/2 cup remaining flour) to make a soft tacky dough. If you need more flour to achieve a soft , elastic tacky dough use slightly more. Do not over knead the dough.

Place your soft, elastic slightly tacky dough in a large bowl coated with oil, turn the dough in the bowl so all sides are coated with oil. Place in a warm, draft free place to rise, cover the top of the bowl with a clean kitchen towel. Let rise till double in size, about an hour.

Punch the dough dough, let it rest for 2 minutes. Divide the dough into 16 pieces rolled into balls. Place in a greased 13x9 inch baking pan. Place in a warm draft free place to rise covered with a clean kitchen towel. The dough will double in size and come up to the top of the pan but not over the pan.

Bake at 375 degrees for about 20 minutes or until roll tops are golden brown. Remove from the oven, let cool.
If you enjoyed this recipe, you may like these as well.