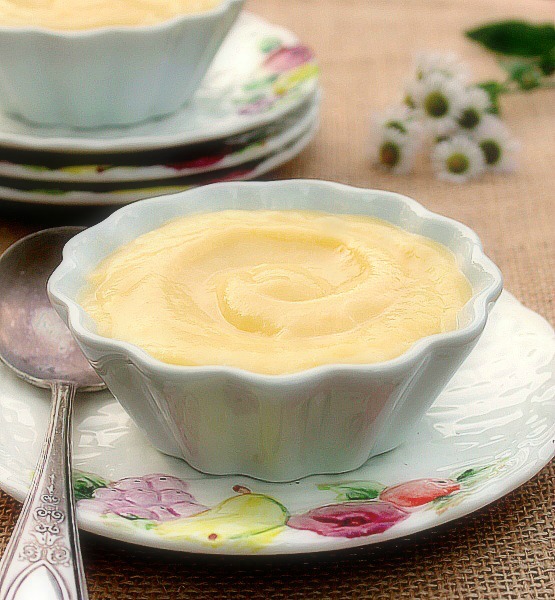 After 30 plus years of baking and making desserts from scratch I have accumulated good basic homemade recipes that I can build on in my recipe box. Take cakes for instance. A good chocolate, white or yellow cake can be made with different frostings. Adding nuts or pieces of candy on the frosting makes them slightly different every time you serve them. The same applies to homemade puddings. A good homemade pudding can be eaten just so, or made into parfaits by adding fruit or nuts.
This luscious Homemade Vanilla Pudding is easy to make and delicious. It's made with Half and Half which gives it a smooth, creamy texture along with the wonderful vanilla flavor. I don't normally keep Half and Half in the fridge. Lucky for me I did have heavy cream, which allowed me to make my own Half and Half instead of running to the store to buy it. To make your own Half and Half combine 3/4 cup whole milk with 1/4 cup heavy cream to make 1 cup of Half and half. You'll need 3 cups for the recipe.
In making this recipe you will become familiar with "tempering eggs" into the pudding . All that means is your going to add 1 cup of hot pudding into the slightly beaten egg yolks and gently stir the two together before returning it back into the pan slowly, stirring while you add, to cook slightly longer. Why do we temper the eggs ? We want to slowly bring the temperature of the egg yolks up with the hot pudding. If you didn't temper the yolks, you would have scrambled eggs in your pudding.
Paul said this creamy cool treat was just as satisfying as eating ice cream, he loved it! There's no need to buy store bought vanilla pudding with this delicious homemade recipe in your recipe box. Make it an Enjoy!
From time to time Bunny's Warm Oven may have "affiliate links" in a blog post or in a recipe ingredient list. Which means if you click on the link and purchase an item I receive an affiliate commission. Thank you for supporting my efforts at Bunny's Warm Oven when you shop.
Items associated with the making or serving of this delicious pudding you may enjoy:
Anolon Advanced Bronze Hard – Anodized Nonstick 2-Quart Covered Straining Saucepan w/ Pour Spout,Bronze
Set of 6 Durable Clear Glass Footed Dessert Bowls 8 oz
Pyrex Prepware 1- Quart Measuring Cup, Clear with Red Measurements
OXO Good Grips 11-inch Balloon Whisk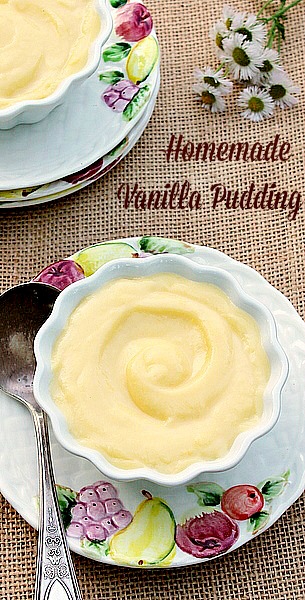 Homemade Vanilla Pudding
Ingredients:
2 Tablespoons cornstarch
3 cups Half and Half ( you can also use whole milk or light cream)
1 cup granulated sugar
4 egg yolks, beaten slightly
1 Teaspoon vanilla extract
1 Tablespoon butter
1/4 Teaspoon salt
Directions:
Combine the sugar and cornstarch in a heavy duty metal saucepan. Add the half and half, over medium heat , cook and gently whisk the mixture until it thickens and boils. After it boils, whisk slowly and boil for 2 minutes more. Remove the pan from the heat.
Remove 1 cup of the half and half mixture from the pan. Slowly add it to the egg yolks while mixing with a fork to fully combine. Take the half and half and egg yolk mixture and slowly whisk it back into the remaining ingredients in the pan. ( Don't dump it in all at once, it needs to be added gradually) Over medium heat, bring the pan ingredients up to a gentle boil, reduce the heat, cook and whisk slowly for 2 more minutes. Remove from the heat and stir in the butter, salt and vanilla. Pour pudding into 6 dessert dishes, cover the surface of the pudding with plastic wrap so it's touching the top of the pudding. This prevents a film from forming on the pudding as it cools. Let the pudding cool on the counter 45 minutes, refrigerate up to 24 hours.
This is a pudding recipe, not a pie filling recipe. It is not intended to be used as a pie filling.
Adapted from Better Homes and Gardens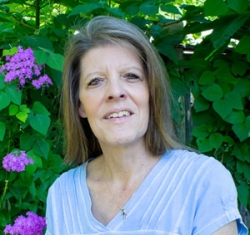 My children are grown now and I'm a Gramma .I live along the Kentucky River with my husband Paul.I hope you visit Bunny's Warm Oven and take with you some tasty recipes that catch your eye. I also hope that you will make them and share.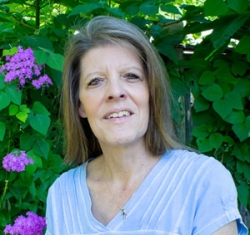 Latest posts by Mary Bostow (see all)