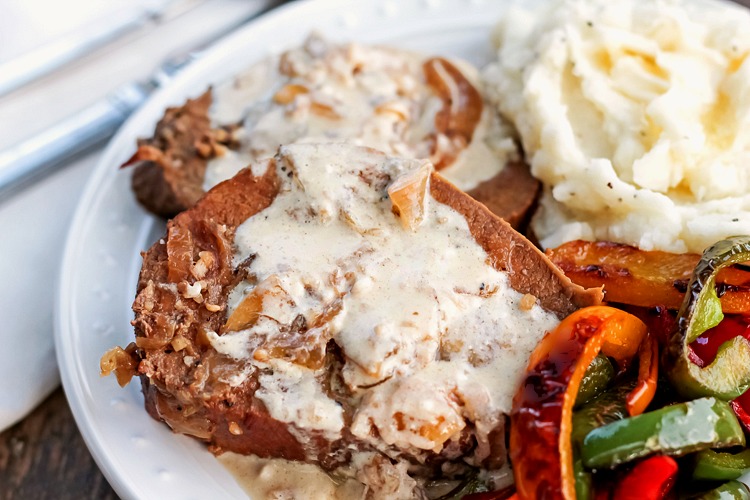 Crock Pot Roast Beef with Sour Cream Gravy
After I made the Chicken Breast in Sour Cream Sauce , I couldn't stop thinking about what it would be like if I made a roast and used sour cream in the broth for a gravy.  The only way to satisfy my curiosity was to do it.  I had a small (about 2/12 pound) eye of round that isn't noted for being a tender cut of meat.  The crock pot though, makes any roast fork tender and it was the perfect way to cook it.
I decided to sear the salt and peppered roast on all sides in a frying pan with some butter before putting it into the crock pot. After I seared the roast, I cut up a whole onion and put it into the same pan to get all the wonderful flavor the roast left in it. I sauteed them until they were just translucent.  The roast and onions went into the crock pot with a tablespoon of jarred minced garlic and cooked on low for 4 hours.  By then the meat started to render it's flavorful juices.  I sliced the eye of round up and let it cook in the broth for 3 more hours till it was fork tender.
The sour cream gravy was made by mixing the sour cream and flour together and adding a half a cup of beef broth (canned ).  You can also use dry white wine instead of beef broth if you prefer.  The broth from the crock pot was added and simmered slightly to thicken.  Paul and I couldn't get enough of the gravy, it was absolutely delicious!   It was everything I imagined it would be and more.  Crock Pot Roast Beef with Sour Cream Gravy, it's the best roast I've made in a long time.  I hope you love it as much as we did!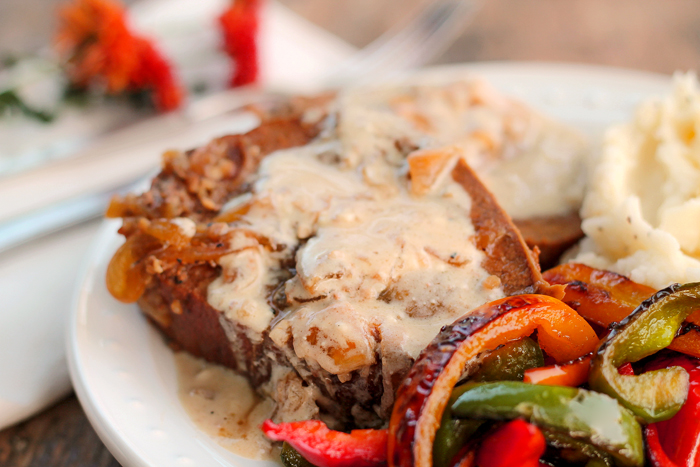 Crock Pot Roast with Sour Cream Gravy
Ingredients
4 -5

pound

beef roast

any cut

Salt and Pepper to taste

1

Tablespoon

butter

1

large onion sliced

thin

1

Tablespoon

minced jarred garlic

3/4

cup

sour cream

3

Tablespoons

all purpose flour

1/2

cup

canned beef broth or dry white wine
Instructions
1. Salt and pepper your beef roast. In a large frying pan or dutch oven melt 1 tablespoon of butter. Sear the roast on all sides. Remove the roast and place the sliced onions in the pan to saute until translucent.

2. Place the roast, sauteed onions and garlic in the crock pot, turn on low with the lid on and cook 7 hours or until the roast is tender.

3. Remove the broth from the crock pot. Stir the flour into the sour cream, add 1/2 cup canned beef broth or white wine, stir until combined. Add the broth from the crock pot. Heat the sour cream gravy in a sauce pan until it thickens slightly. Add salt and pepper to taste. Spoon over sliced roast beef.
Notes
My roast was small, I suggest doubling the sour cream gravy if using a larger roast.
 If you enjoyed this recipe, you may like these as well.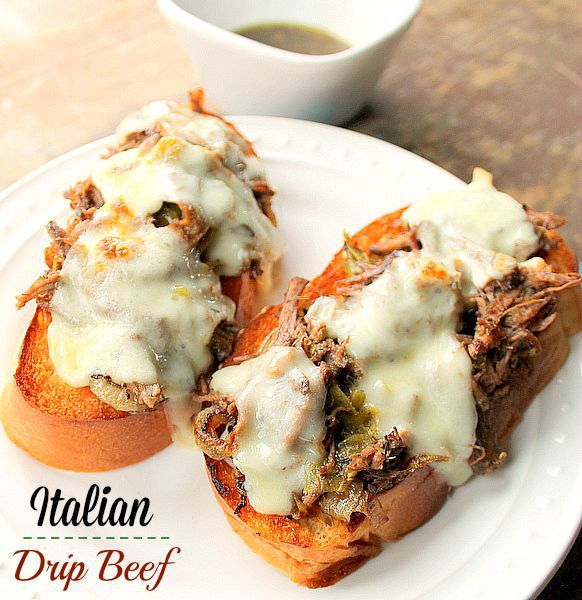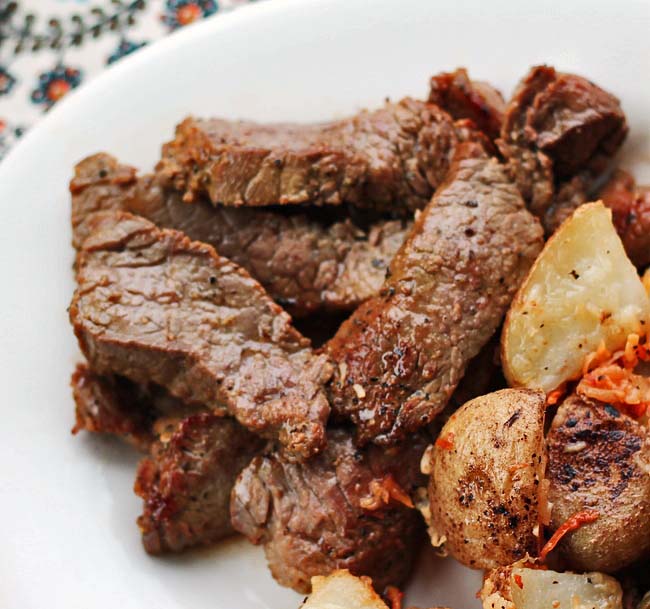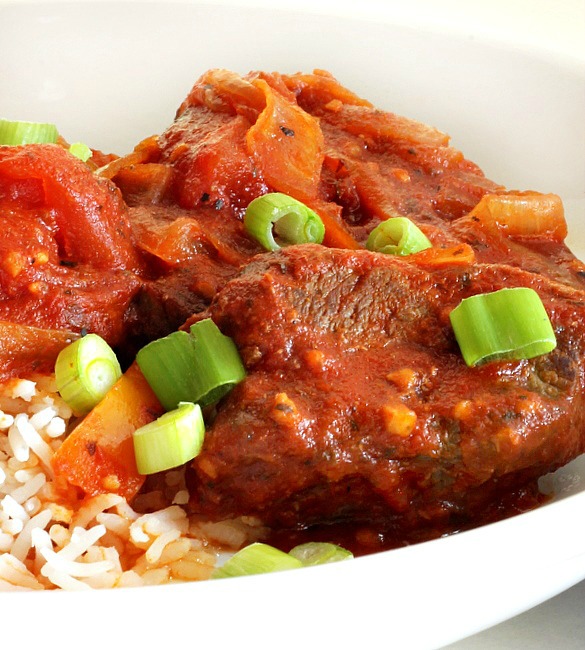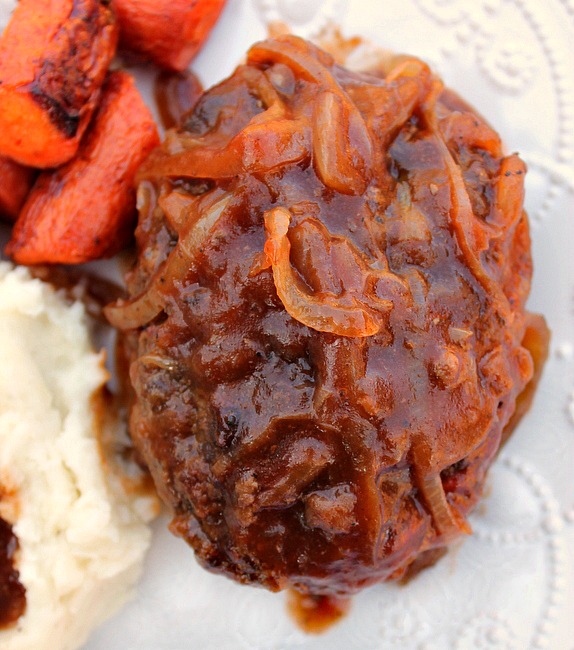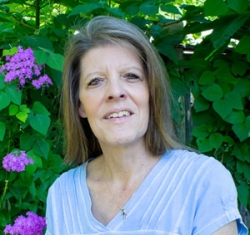 My children are grown now and I'm a Gramma .I live along the Kentucky River with my husband Paul.I hope you visit Bunny's Warm Oven and take with you some tasty recipes that catch your eye. I also hope that you will make them and share.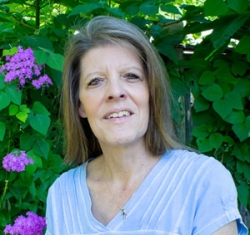 Latest posts by Mary Bostow (see all)