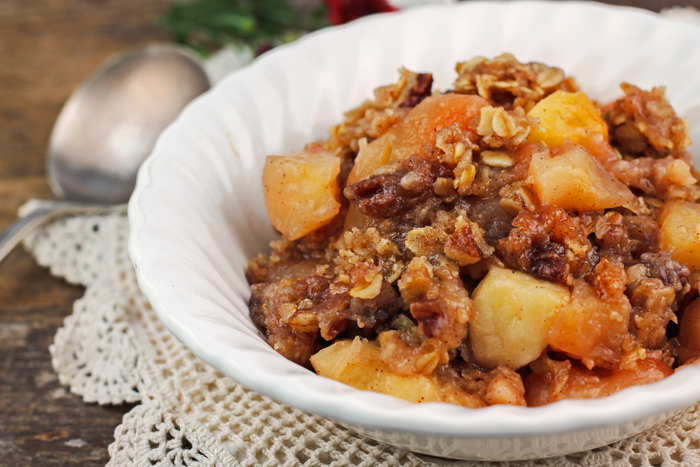 Crock Pot Apple Crisp
I made this out of curiosity, what would Crock Pot Apple Crisp be like?  I ended up loving it!  I couldn't keep my spoon out of the crock pot after it was made, it was sooooo good!  I ate so much I wasn't hungry for dinner. My husband tasted his and said….This is real food!  He liked the fact that there were apples, pecans and oatmeal in it.  It wasn't a dessert to him, it was real food.
The Apple Crisp cooks in the crock pot on high for 2 hours, the lid is removed for an hour while it's still cooking to help the topping crisp.  First, since it's made in the crock pot, don't expect a crisp top like you would if it was baked.  The oatmeal does get somewhat crisp, but again not like it would be in the oven.  That said, you still need to make it!  It's a whole other fantastic taste and texture than a traditional apple crisp!  I chopped my apples into chunks so I would have chunks after it was slow cooked.  It worked out great!
Why make Apple Crisp in the crock pot instead of in the oven?  There are occasions when this version of apple crisp might suit your needs and tastes better than baked .  This would be great to take to pot lucks, office parties or camping.  Make it in the crock pot, take the crock pot with you and plug it in when you get to where your going and you have warm absolutely delicious Apple Crisp.  I loved the apple crisp, served warm with vanilla ice cream, this Crock Pot Apple Crisp ROCKS!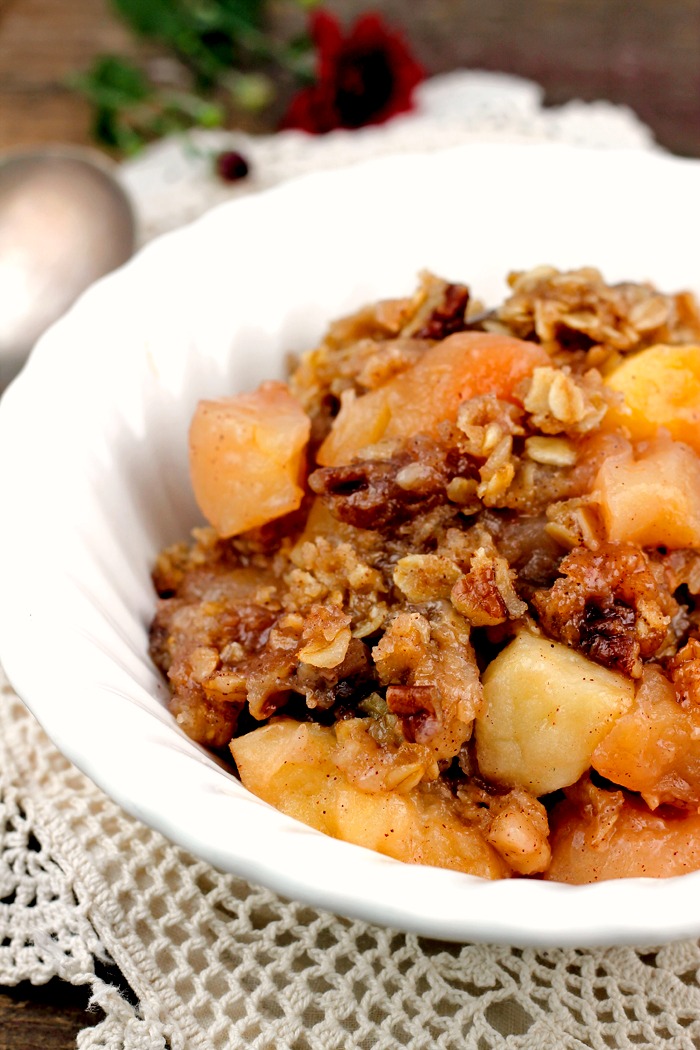 Crop Pot Apple Crisp
Ingredients
Topping
1

cup

flour

1

cup

whole oats

1/2

cup

light brown sugar

1/2

cup

white sugar

1/2

teaspoon

cinnamon

1/4

teaspoon

nutmeg

pinch of salt

1/2

cup

butter

cut into pieces

1

cup

chopped pecans or walnuts

***************************************

1/3

cup

sugar

1

tablespoon

corn starch

1/2

teaspoon

nutmeg

1/2

teaspoon

cinnamon

8

medium size apples

I used Gala apples, peeled, cored and cut into chunks

2

Tablespoons

lemon juice

1

teaspoon

vanilla
Instructions
1. In a large bowl, toss the apple chunks with 2 Tablespoons lemon juice, set aside
Topping Directions
2. In a large bowl, mix the flour, oatmeal, light brown sugar, 1/2 cup white sugar, 1/2 teaspoon cinnamon and nutmeg together. Work the 1/2 cup of butter pieces into the mixture with a fork or your fingers until you have coarse crumbs. Stir in nuts. Set aside.

3. In a medium size bowl, whisk together 1/3 cup sugar, cornstarch, 1/2 teaspoon nutmeg and 1/2 teaspoon cinnamon.

4. Place apples into the crock pot, add vanilla, stir in the cornstarch mixture. Sprinkle topping on top, covering all. Put the lid on the crock pot, cook on high setting for 2 hours. Take the lid off, continue cooking with lid off for 1 hour. Serve warm with ice cream.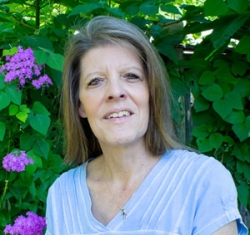 My children are grown now and I'm a Gramma .I live along the Kentucky River with my husband Paul.I hope you visit Bunny's Warm Oven and take with you some tasty recipes that catch your eye. I also hope that you will make them and share.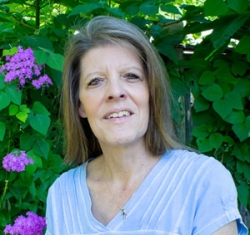 Latest posts by Mary Bostow (see all)