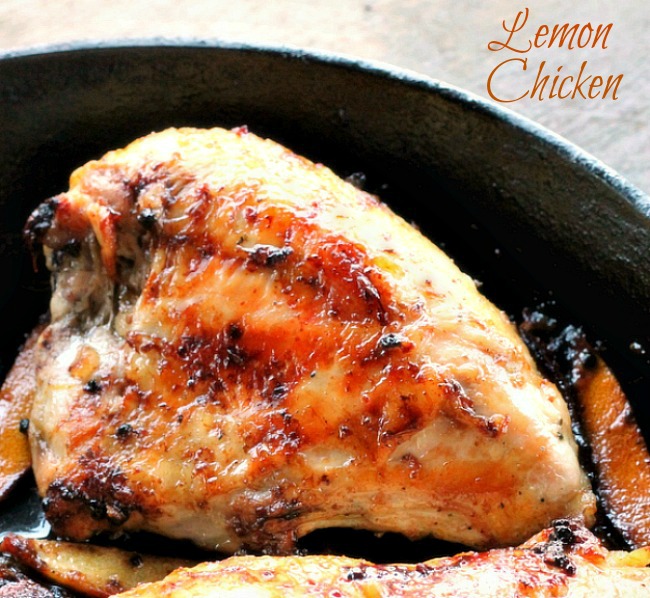 This is the first time I've ever made Lemon Chicken and it won't be the last! This was so good!! It was very moist and tender and had a fantastic flavor to it. I used bone in split breast that were huge which took more baking time. Plan for that if your using bone in as well. It was totally worth the wait and I'll be making this again. I'd love to make this recipe using some of the chicken to make chicken salad with. What an amazing flavor it would give it!! Lemon Chicken, extremely easy and absolutely a keeper!
Lemon Chicken
Ingredients:
1/4 cup extra virgin olive oil
3 Tablespoons minced jarred garlic
1/3 cup chicken broth
2 Tablespoons fresh lemon juice
1 Tablespoon lemon zest
1 1/2 teaspoons dried oregano
salt and pepper to taste
4 chicken breast, skin on, can use boneless or bone in.
1 lemon, cut into 8 wedges
Directions:
Pre heat oven to 400 degrees.
In a small saucepan, heat the olive oil and minced garlic together over medium heat for about one minute. Take the pan off the heat,add the chicken broth, lemon zest, lemon juice, oregano and one Teaspoon salt. Whisk to combine, pour mixture into a 13×9 inch baking pan or a large oven proof skillet. I used my cast iron skillet. Place the chicken breast in the pan, baste the chicken with the liquid, if using bone in chicken, place skin side up in the pan. Sprinkle chicken generously with salt and pepper. Cut the lemon into 8 wedges arrange them around the chicken in the pan. Bake boneless chicken breast about 40 minutes, bone in breast will take an hour, depending on the size of the breasts. Baste chicken half way through baking. Bake until chicken is browned on top.