Tomato Mozzarella Parmesan Bake
Melting cheese over garden fresh tomatoes with a layer of french baguette bread cubes flavored with green peppers,onions and garlic. My husband said it was better than pizza!
This delicious bake is very easy to make and assemble.  We start the recipe by basically making homemade croutons. A French baguette is cut into one inch thick slices,buttered on both sides and baked until crispy and golden brown on both sides. The slices are then cut into cubes. This step and sauteing the peppers,onions and garlic can be done ahead of time to make assembling the dish quicker at dinner time.
I used an oval 11×9 inch baking dish lightly buttered to bake the recipe in.  After the bread cubes are made and the peppers,onions and garlic are sauteed the recipe proceeds quickly.  The bread cubes and veggies are added to a bowl of beaten eggs, tossed to combine and layered in the baking dish. The mixture is topped with thick ,ripe tomato slices and cheese then baked till golden brown.
The flavors in the bake are absolutely amazing together. I made this as a side dish for chicken made on the grill. Half of it was eaten before dinner was done!  The garden is full of ripe tomatoes and peppers, this is going to be made and enjoyed all summer. Tomato Mozzarella Parmesan Bake, ENJOY!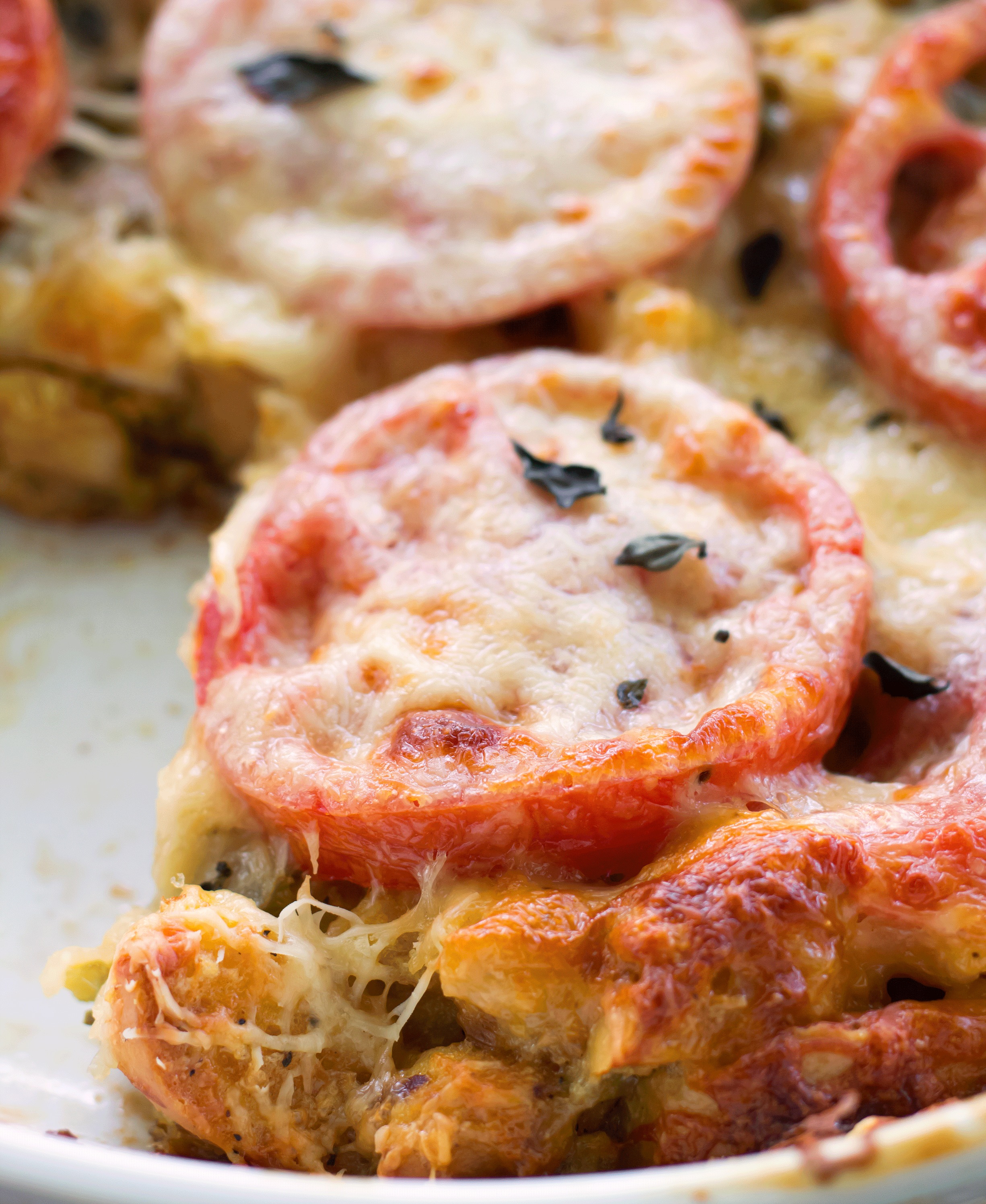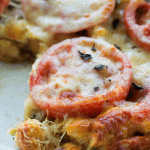 Tomato Mozzarella Parmesan Bake
Ingredients
2

Tablespoons

butter,melted

8 - 10

slices

french bread baguette ,cut into one inch thick slices

1

cup

green peppers, diced

1

cup

onion,diced

2

garlic cloves

minced

4

eggs

beaten

1

Teaspoon

salt

1

Teaspoon

pepper

2

medium size

tomatoes, each tomato cut into 4 thick slices

1

Tablespoon

olive oil

1

cup

mozzarella cheese, grated

1/4

cup

Parmesan Cheese, grated

fresh basil,torn in pieces for garnish
Instructions
Preheat oven to 400 degrees.
Brush melted butter over both sides of the baguette slices,place on a baking sheet and bake until slices are golden brown and crisp on both sides. Turning slices if necessary to get both sides browned and crispy. Remove from the oven and let cool. Cube the slices. I cut each slice into 4 cubes for a total of 3 cups of nice sized bread cubes. Lightly butter an 11x9 inch casserole dish. Set aside. Reduce the oven heat to 350 degrees.

Place one Tablespoon olive oil in a medium to large size saute pan. Place the diced onions and peppers in the pan and saute until slightly caramelized and softened. Add the minced garlic to the pan and cook and stir 1 more minute.

Place the eggs in a large bowl, whisk until well beaten. Add the bread cubes , garlic, peppers and onions, and salt and pepper. Toss to coat the ingredients. Place the mixture into the prepared casserole dish. Place the tomato slices in a single layer on top of the bread cubes. Sprinkle both cheeses over top the tomato slices, bake at 350 degrees for 30 to 35 minutes until bread cubes and cheese are golden brown on top. Garnish with torn basil leaves. Serve immediately, refrigerate any leftover casserole covered.



If you enjoyed this recipe , you may like these as well.