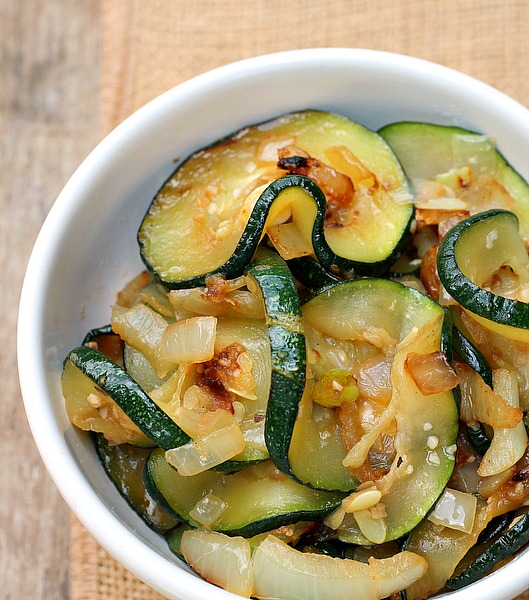 The first batch of zucchini from the garden made it's way into the kitchen yesterday. As always, there will be a ton of it to follow along with summer squash. We enjoy sauteing it in a skillet with onion and garlic , adding a little bit of olive oil and a touch of butter for flavor. If you've ever cooked zucchini or summer squash in a skillet you know that the squash has to first release all the water it has into the pan, then the water has to evaporate while it's cooking before you can even begin to saute it. Which leaves the squash very limp and sometimes a little mushy. I'm not a fan of mushy anything except oatmeal.
As I sat there pondering how I could remedy the water problem it dawned on me. Before I make creamed cucumbers I slice the cucumbers and salt them to release it's water. Why not try it with the zucchini?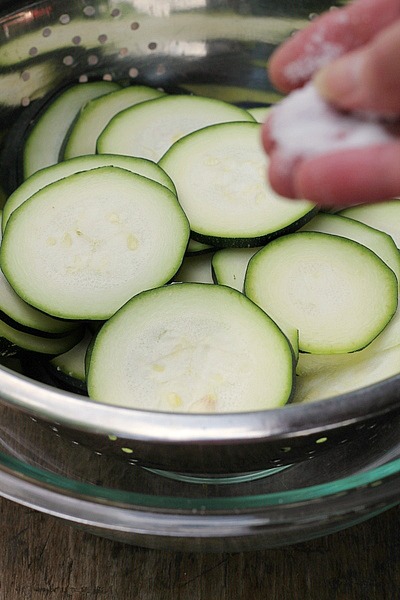 The sliced zucchini went into a colander, the colander went into a big bowl. I took a good pinch of salt and sprinkled it all over the zucchini.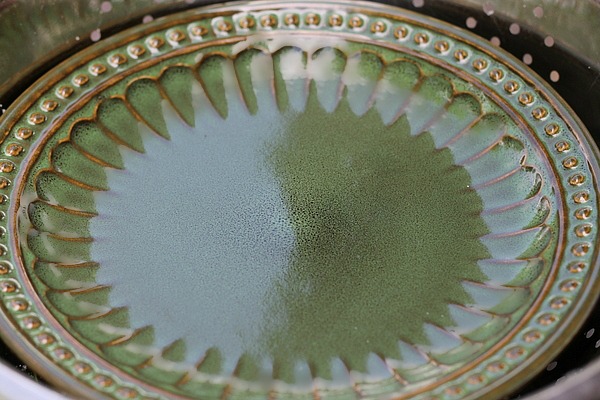 I placed a small plate on top of the zucchini and pressed down on it, then waited a couple of hours to see what would happen. The zucchini released a good cup of water! When it came time to saute it in a skillet with onions and garlic it sauteed beautifully. I didn't have to wait for the water to release and evaporate which made the cooking time less. The onions and garlic sauteed to a golden goodness which enveloped the zucchini in flavor! You could also try this if you wanted to use zucchini in a stir fry. It was delicious, I'll enjoy eating Zucchini with Onion and Garlic a lot more preparing it this way!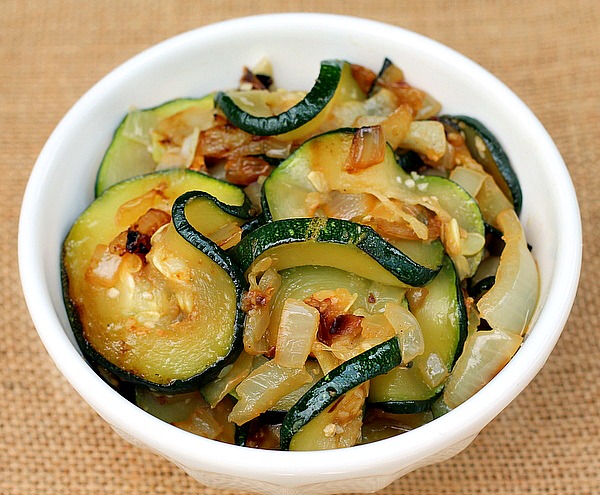 Zucchini with Onion and Garlic
Ingredients:
1 medium zucchini or summer squash , sliced
1 medium onion, sliced
1 heaping tablespoon minced jarred garlic
1 Tablespoon olive oil
1 Tablespoon butter
Salt and pepper to taste, while sauteing
Good pinch of salt
Directions:
Place the sliced zucchini or summer squash into a colander, place the colander into a large bowl. Sprinkle zucchini with a good dash of salt. Place a small serving plate on top and press down firmly. Set aside for at least 2 hours.
Place a heavy duty skillet onto a burner , heat the skillet up, place the oil and butter into the hot pan followed by the squash, onion, garlic, salt and pepper. Saute until onion is caramelized to a golden brown, stirring frequently.