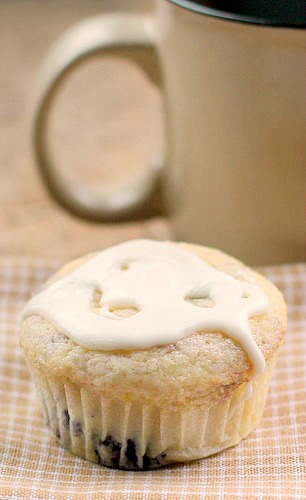 I think the weather is finally getting to me. More cold and flurries today UGH! I needed something to cheer me up, I needed a taste of lemon and blueberry, a little taste of sunshine. The muffins have a wonderful blueberry and lemon flavor inside the muffin as well as a lemon glaze to top them off. They are very tender and delicious. You can use fresh or frozen blueberries, if using frozen don't thaw the berries out, stir them into the batter after you have coated them with a tablespoon of flour. I use blueberries for so many things that I always have them frozen in the freezer.
The lemon glaze along with the blueberry-lemon flavored muffins give these little treats a very bright, fresh flavor, perfect for a weekend morning treat or just because you need a little taste of Spring! Blueberry Muffins with Lemon Glaze, you're going to love them!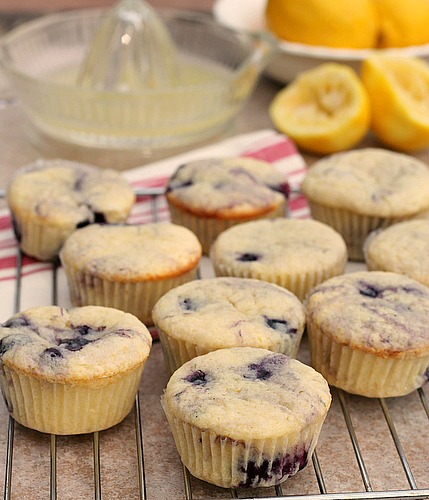 Blueberry Muffins with Lemon Glaze
( makes 16 regular muffins)
Muffin Batter Ingredients:
1/2 cup butter, softened
1 cup sugar
2 eggs
1/2 cup milk
2 tablespoons lemon juice. ( 2 large lemons provides enough juice for both the muffins and glaze)
2 teaspoons grated lemon peel ( 2 lemons)
2 cups all-purpose flour
2 teaspoons baking powder
Dash of salt
2 cups fresh or frozen blueberries ( if using frozen, do not thaw)
Lemon Glaze Ingredients:
3/4 cup confectioners sugar
1 Tablespoon lemon juice
1/2 teaspoon butter, melted
1/4 teaspoon vanilla extract
Splash of milk if needed to get a drizzling consistency
Directions:
Preheat oven to 350 degrees. Line muffin tins with paper liners
In a large bowl, cream butter and sugar until light and fluffy. Add eggs, one at a time, beating well after each addition. Beat in milk, lemon juice and peel. In a medium size bowl combine flour, baking powder and salt. With the mixer on low, add the flour mixture to the egg mixture, beating only until ingredients are incorporated. If using frozen blueberries , do not thaw. Place berries ( fresh or frozen) in a baggie with 1 Tablespoon of flour, shake to coat the blueberries, fold into the muffin batter.
Fill the muffin paper liners 3/4 full with batter. Bake in a preheated 350 degree oven for 25 – 30 minutes or until a tooth pick inserted in center of muffin comes out clean.
Lemon Glaze:
Place the glaze ingredients in a small bowl, whisk to combine, adding a splash of milk if necessary to achieve a drizzle consistency. Drizzle muffins with glaze while they are warm.