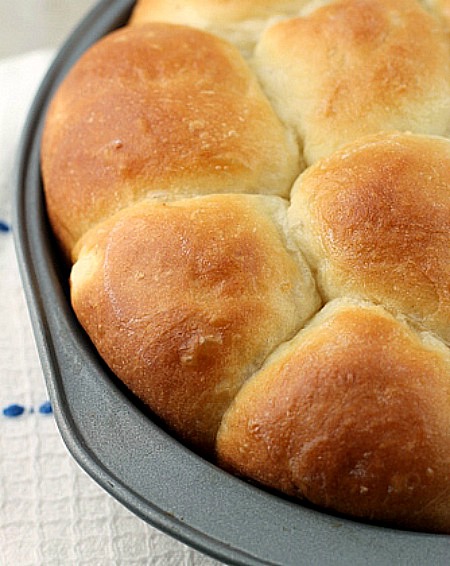 The drop of temperature and humidity always makes me want to bake with yeast. I love it so much that I start thinking…" yeast breads" in August. I can't help it, it makes me feel all warm and cozy to have homemade bread and rolls coming out of the oven in Fall. There's just something so home and hearth about it. Homemade soups, homemade rolls…you've got to love it.
Potato Rolls are exquisite little creations that are slightly sweet and pillowy soft inside. It's enough to make you weak in the knees at first bite. I don't know how the mashed potato in the recipe makes them irresistible and delicious, I'm just thankful for it. The recipe made 2 nine inch cake pans full of rolls. One pan is gone, it mysteriously disappeared along with a stick of "butta". One will be eaten today by my hungry potato roll lovin husband along with dinner. They are the perfect little roll for sliders during football season and let's not forget, the holidays will be here before any of us are ready for them. Tuck the recipe away now and use it for your family dinners. The recipe takes some time to make, it has 3 rise times, the last rise, after the rolls are formed can be done in the fridge overnight if you like. Potato Rolls this amazing, are well worth the time. Enjoy!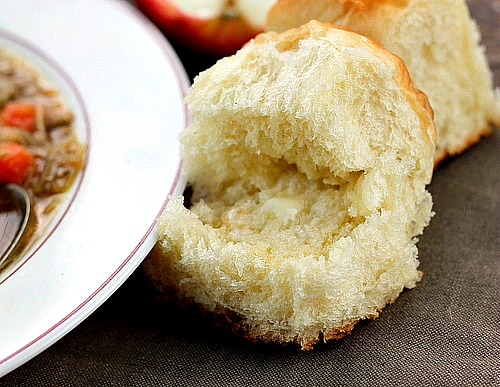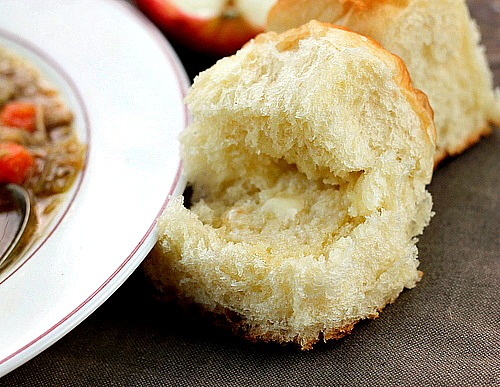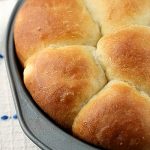 Potato Rolls
Ingredients
1

medium to large baking potato

save water potato is boiled in, peeled, cubed and boiled

1/2

cup

hot potato water

from boiling the potato

2

large eggs

at room temperature

2/3

cup

sugar

divided

2 1/4

teaspoons

rapid rise yeast or 1/4 ounce package rapid rise yeast

1

teaspoon

fine salt

4 1/4

to 4 1/2 cups all purpose flour

1/2

cup

unsalted butter

1 stick, at room temperature, plus more for brushing
Instructions
1.Cook the peeled and cubed potato in boiling water till fork tender, reserving water it was cooked in. Mash the potato without salt or butter, you should have 1 cup mashed potato

2. Place mashed potatoes in a large bowl, add the 1/2 cup hot potato water first, stir into potatoes, then add 1/3 cup sugar, eggs and yeast. Stir. Add 2 cups flour and salt. Stir with a wooden spoon until the dough is shaggy and sticky. Cover with plastic wrap, set in a draft free warm location and let rise till double in size, about 11/2 hours.

3. In the large bowl of a stand mixer using the paddle attachment beat the butter and the last 1/3 cup of sugar until light and fluffy. Switch to a dough hook and add the risen dough. Mix on low speed until the butter and dough come together, about 1 minute. Scraping bowl as needed, dough will be sticky. Add the remaining 2 1/4 cups of flour by 1/4 cup additions to the bowl until the dough is shaggy and pulls away from the sides of the bowl. Continue beating until dough is smooth but still tacky 3-4 minutes.

4. Turn dough out onto a lightly floured board and knead by hand until dough is smooth and not tacky, if need be, knead 1/4 cup more flour into dough to get it smooth and no longer tacky.

5. Grease the inside of a large bowl with butter, place the dough in the bowl and turn to coat all sides. Cover bowl tightly with plastic wrap, let rise in a warm draft free location till doubled in size, about 1 1/2 hrs.

6. Generously greased 2 nine inch round or square cake pans. Turn the dough out of the bowl and pat into a rectangle about 16- by 8-inches, gently pressing out excess air. Divide the dough into 32 equal portions, about an ounce each, with a pizza wheel or bench scraper. Tuck the edges of the dough under to make round rolls and place them seam-side down in the prepared pan, leaving a little space in between each roll. Cover the pan with buttered plastic wrap.( You can let the rolls rise overnight in the refrigerator. If rolls have been refrigerated overnight, the final proofing time will be closer to 1 1/2 hours.) set aside in a warm place until the rolls rise almost to the rim of the pan and have more than doubled in size, about 45 minutes.

7. Bake rolls at 375 degrees for between 15 - 20 minutes until golden brown. Brush with butter from the oven. Cool rolls 10 minutes in pan, turn out and serve.