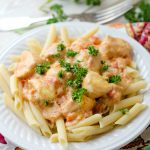 Print
Chicken Breast In Sour Cream Sauce
Chicken Breast with Sour Cream Sauce - The sour cream sauce is flavored with onion, sweet red peppers, garlic, paprika and chicken broth. It has an amazing rich flavor with a smooth and creamy texture.
1. Place the oil and butter in a large skillet over medium to low heat. Melt the butter, place chicken breast in skillet and brown on both sides, remove from skillet to a platter.

2. Place the chopped onion, sweet red peppers and minced garlic in the skillet and saute until onion is translucent and peppers are tender. Add paprika and blend together.

3. Add chicken broth to the skillet and place chicken breasts in pan to cook covered for 25 minutes or till chicken is tender. Note, using cut up chicken parts ( bone in) will increase the simmering time to about 45 minutes.

4. Remove chicken to a plate and keep warm. Blend the sour cream and flour together, whisk into the liquid in the skillet and cook until thickened, salt and pepper to taste. Pour over chicken. Serve.