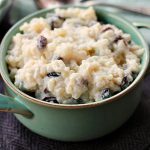 Print
Old Fashioned Rice Pudding
Old Fashioned Rice Pudding is delicious served warm or chilled. This is good old fashioned comfort food at it's best!
3 1/2

cups

milk

1/2

cup

uncooked long grain rice

1/3

cup

sugar

1/2

Teaspoon

Salt

1/2

cup

raisins

1

Teaspoon

Vanilla

Ground Cinnamon

optional, for garnish
1. Combine the milk, sugar, rice and salt in a large saucepan. Over medium to low heat, cook the mixture while stirring constantly until it starts to boil. Resist the urge to turn the heat up to make it boil faster. It needs to come up to a slow boil.

2. After the mixture has come to a boil, pour it into a buttered 1 1/2 quart baking dish. Cover it with foil and place into your pre-heated 325 degree oven. Bake for 45 minutes, stirring every 15 minutes. At the end of 45 minutes, add the raisins and vanilla. Bake another 15 minutes until the rice is tender. Sprinkle with cinnamon, serve warm or chilled.