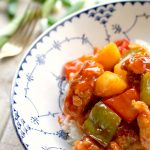 Print
Sweet and Sour Pork
Sweet and Sour Pork Sweet and Sour Pork is one of those recipes that's very easy to make and yields fantastic results. There are four components to the recipe...the marinade, the sauce, preparing and frying the pork , peppers and onions and the assembly. Trust me on this, it's a lick your lips and go for seconds before someone else gets there before you do kinda recipe!
Marinade
2

Tablespoons

water

1

Tablespoon

soy sauce

1/2

Tablespoon

sesame oil
Sauce
1/2

cup

ketsup

1

Teaspoon

ground ginger

1/2

cups

white vinegar

1/2

cup

pineapple juice

1

Teaspoon

kosher salt
Main dish ingredients
1

pound

boneless pork cut into bite size pieces

10

ounce can

pineapple chunks in juice, drained but reserving 1/2 cup juice for the sauce

1

large

red bell pepper, cut into 1 inch pieces

1

large

green pepper,cut into 1 inch pieces

1

medium

onion, cut into 1 inch pieces

1/2

cup

cornstarch

1

cup

flour

1

large

egg

1/4

cup

whole milk

1

Tablespoon

corn starch

1

Tablespoon

water

1/2

cup

oil, for frying the pork chunks

1

Tablespoon

oil, to saute peppers and onions
For The Sauce:
Place all the sauce ingredients in a medium saucepan. Whisk together and simmer for 20 - 30 minutes on medium to low heat, set aside.You'll need three shallow bowls. Place 1/2 cup flour in the first bowl. Place the egg and milk in the second bowl and whisk until well incorporated. Place 1/2 cup of flour and 1/2 cup of cornstarch in the third bowl, whisk to combine.Dredge the pork chunks in the first bowl of flour remove them and place them in the egg/milk mixture, make sure they are coated well. Remove the pork chunks from the second bowl and dredge them in the third bowl of flour/cornstarch mixture. Set aside on a plate.Place a 1/2 cup of oil in a fry pan over medium heat. Fry the pork chunks in small batches for about 4 minutes on each side until crispy.Place one Tablespoon oil in a saute pan, add the peppers and onions to the pan. Saute for 4 - 5 minutes, add the pineapple chunks and the sauce. Mix the cornstarch and water together to form a slurry to thicken the sauce. Add the slurry to the pan and stir until thickened. Add the pork chunks and stir to coat. Serve over rice if desired.