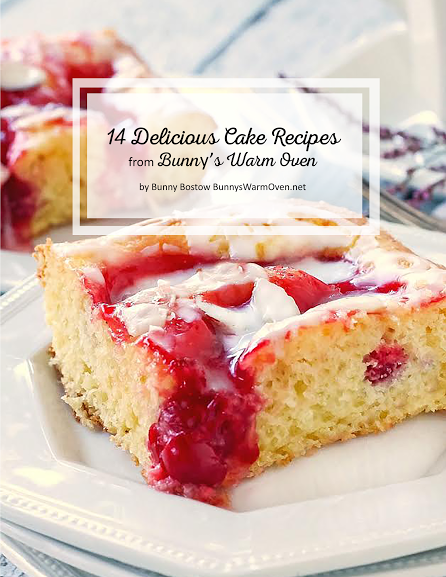 Fourteen Delicious Cake Recipes from Bunny's Warm Oven
Fourteen of my best cake and coffee cake recipes all together in one ebook. This downloadable cookbook can be kept at your fingertips on your computer or tablet to use anytime you need a delicious cake recipe. And the price of this delicious collection of cake recipes? Just $2.99.  The cake recipes included in this collection are:
Almond Joy Chocolate Torte
Chocolate Cake with Peanut Butter Frosting
Easiest Pineapple Cake
Banana Cake with Browned Butter Glaze
Lemon Lime Poke cake
Lemon Blueberry Pudding Cake
Blueberry Cream Cheese Coffee Cake
CopyCat TastyKake Tandy Cake
Crock Pot Cherry Pudding Cake
Cream Cheese Apple Cake
Glazed Cherry Coffee Cake
Blueberry Boyfriend Bait
Glazed Lemon Ricotta Cake
Banana Chocolate Chip Cake
Get your copy of Fourteen Delicious Cake Recipes for $2.99 by clicking the "Buy Now" Button!
You DO NOT need a PayPal account to purchase my ebook, under the PayPal Login there are options to pay with the credit card of your choice.