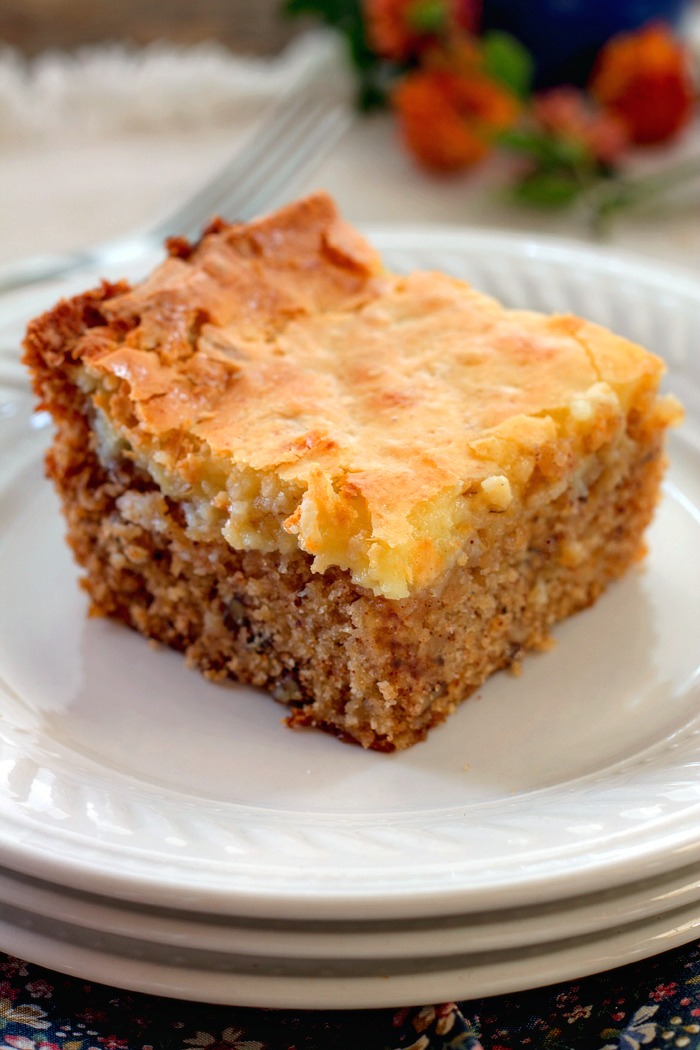 Cream Cheese Topped Apple Cake
Cream Cheese Topped Apple Cake – a moist apple pecan cake that's topped with a cream cheese layer before it's baked. YES, before it's baked.
The cream cheese layer bakes on top of the cake to make an absolutely delicious creamy, cream cheese topping. Oh good grief this is so very good. I didn't even have to use a mixer to make the cake batter, I just whisked the ingredients together .
I melted the butter in a pot big enough to hold the rest of the ingredients of the cake portion of the recipe. I added the sugar to the pot and whisked it into the butter, then added the eggs and whisked those in. I combined the dry ingredients in a bowl and added them in batches alternately with the buttermilk to the pot, whisking after each addition. Lastly the apples and pecans were added and stirred in. The cream cheese layer was just as easy to make.
I used pecans in the cake , you can switch those out for any nut you and your family like. If you have someone in your house that can't have or doesn't like nuts switch them out for raisins. Use a baking apple for the recipe, I always have Gala apples in the house, they're my favorite baking and eating apple.
You're going to love this cake. The moist apple pecan cake topped with a layer of baked cream cheese is over the top delicious. Enjoy!
Cream Cheese Topped Apple Cake
2016-11-08 01:07:06
Ingredients
2 cups all purpose flour
2 cups sugar
1 cup butter, softened
2 eggs, room temperature
1 Teaspoon baking soda
1/2 cup buttermilk
1 generous cup grated apples
1 Teaspoon cinnamon
1 cup chopped pecans
Topping
3 cups confectioners sugar
8 ounces cream cheese, room temperature
2 eggs, room temperature
1/4 cup dry uncooked oatmeal
Instructions
Preheat oven to 350 degrees. Grease 13x9 inch baking pan.
Melt butter in large pan big enough to hold all the cake ingredients. Add sugar, whisk to combine. Add the eggs and whisk till incorporated.
Add the flour, baking soda and cinnamon to a large bowl, whisk to combine. Add the dry ingredients alternately with the buttermilk to the egg mixture, whisking till just incorporated after each addition. Fold in the grated apples and pecans. Spread into prepared baking pan.
For the cream cheese layer
In a large bowl, beat the cream cheese until soft and cream. Add the eggs, beat until well incorporated. Add the confectioners sugar in batches until well incorporated. Beat in the oatmeal. Spread the cream cheese layer over the cake layer evenly and to the sides of the pan. Bake at 350 degrees for 45 minutes or until toothpick inserted comes out clean.
Bunny's Warm Oven http://bunnyswarmoven.net/
If you enjoyed this recipe, you may like these as well.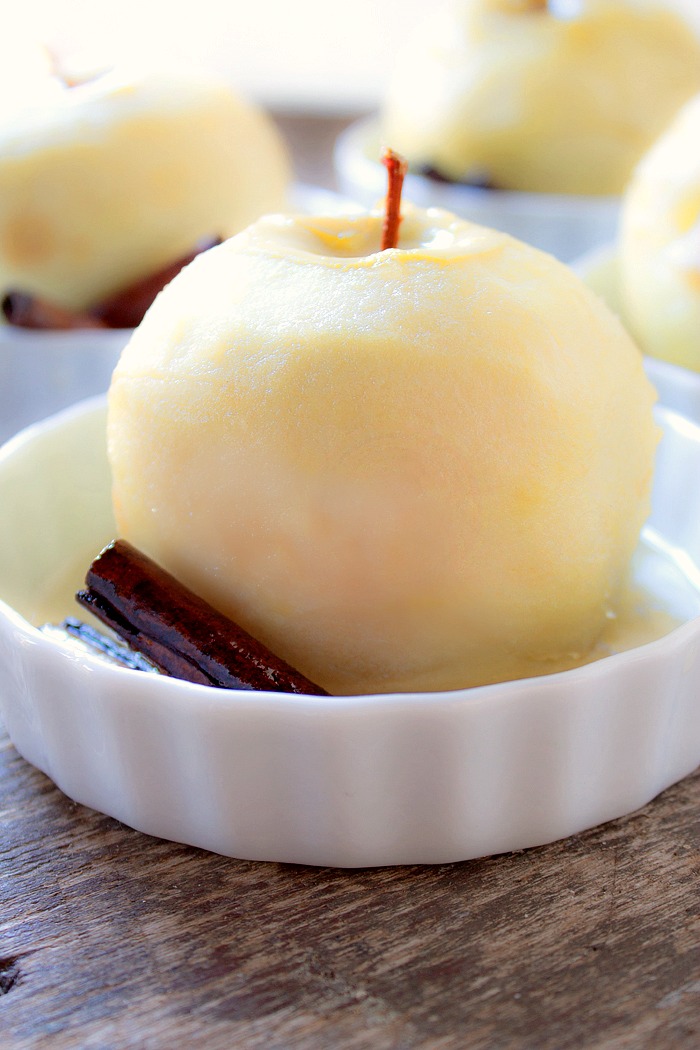 Poached Cinnamon Vanilla Apples